Download
Get Your Salary Guide
The Robert Half 2016 Salary Guide provides a reliable benchmark of jobs and salaries in the UAE. It includes the latest salary and benefits information and unique insights into current recruitment trends for accounting and finance, financial services, IT, human resources and administration and legal positions.
Download the salary guide for:
average salaries across a number of sectors
the anticipated year-on-year salary increases
commentary on the current hiring environment
This year, we have also included insights into how employers can recruit for the right cultural fit.
Download the salary guide for more information or use our salary calculator to instantly review salaries for a variety of roles.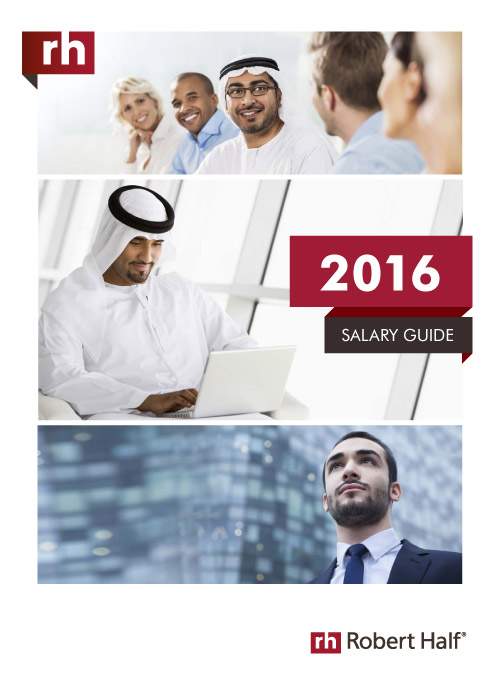 Highlights
The Hiring Climate
Businesses in the UAE are focused on improving their operations and maintaining their position in the market. Although the regional economy has plateaued recently – attributed slightly to the reduction in oil and gas activity – UAE employers continue to fill open jobs and backfill permanent positions.
The region's successful bid for Expo 2020 continues to drive up optimism for business growth over the coming years, and this in turn is creating a shortage of the best candidates to help take organisations forward. As a result, 93% of CFOs find it challenging to secure skilled, professional-level employees. Almost half (48%) say that the primary reason for this is the lack of niche, technical experts. As international economies return to pre-recessionary levels, UAE companies are having to compete on an international scale to attract top-performing candidates as the perceived benefits of relocating to the UAE for these candidates have diminished.
Trends Affecting Hiring
Even with the plateau of the economy and reduction in government spending, companies are optimistic about the region's growth prospects. The majority (85%) of finance directors say that they are more optimistic about economic growth than 12 months ago, while 89% say that they are more optimistic about their own company's prospects than a year before.
The UAE region continues to benefit from its long-standing policy of diversification away from oil production. The most popular asset class for UAE investors is real estate, with 67% believing it to be the best performing asset in 2015.
This interest in real estate is echoed by the fact that the construction sector topped a recent list of major employers, followed by the business sector. The region's Ministry of Labour commented that the business sector made up a quarter of total employment and that the UAE's labour market is 'heading towards attracting talent and expertise in specialised and technical professions'.
Retention Challenges
As skills shortages continue to bite, HR directors are becoming more concerned about losing talented professionals to the competition, locally and internationally. Almost three-quarters (72%) say that they are worried about top performers leaving in the next year.
HR directors believe that the main reason for employees to leave the company is the offer of higher remuneration, with 29% citing this as the top motivator. Other reasons to leave include career advancement (27%), better work–life balance (24%), better location (13%) and better corporate culture (7%). With the decline in offering all-inclusive relocation incentives combined with rising living costs, businesses are investing in training and development and career progression opportunities for existing staff.
Bearing all this in mind, it's more important than ever for companies to benchmark existing employees' remuneration packages against current industry standards to avoid employees leaving for greener pastures.
Salary Trends
Salary Trends
For most professionals, salary is only one part of the picture. When offered multiple roles, other factors come into play, including potential bonuses and employee benefits. As the skills shortage intensifies, employers will need to revisit their overall remuneration strategies to make sure they are keeping up with industry benchmarks.
CFOs believe that employees' wish lists for additional pay and rewards would be topped by more flexible work hours despite 61% of CFOs indicating that flexible work options have increased over the last five years.
From an HR perspective, bonuses will remain one of the most important elements of employee remuneration packages. Almost a third (29%) of HR managers say that bonuses will increase in the year ahead. This is balanced by 43% of HR managers who say that bonuses will be frozen and 20% who say that they will reduce bonuses - reflecting the cautious approach UAE businesses are taking to rebuilding their businesses for growth.
Salary Calculator
Check Your Salary Online
Check and compare salaries in Dubai and the UAE with the Robert Half 2016 online salary calculator. It gives you instant access to salary ranges for accounting and finance, financial services, IT, human resources and administration and legal roles.
Our salary data can help you prepare for your next salary review or performance appraisal or when negotiating a pay rise. If you're looking for information on average salaries in Dubai, try the calculator today.